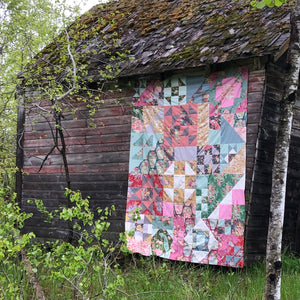 This kit features Tilda's collection, Chic Escape.  The pattern shows off the large scale prints and balances them with Tilda Solids for a vintage feel.
Quilt kit includes:
fabrics for top (Tilda Solids: Dove White, Terracotta, Pink, Grey Cloud, Dark Granite, Soft Teal, Blue Sage, Petrol; Flowervase: Grey, Maroon, Petrol; Peacock Tree: Grey, Green; Vase Collection: Mustard, Pink; Whimsyflower: Rust, Grey, Green and Wildgarden: Pink, Teal, Mustard)
printed paper pattern and instructions for fabric placement
The quilt requires 0.5 m for binding and 3.75 m backing, to be purchased separately.
Finished size is 61" x 80".