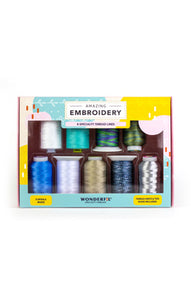 Includes 9 thread spools:
40 wt Rinse 'n Gone water soluble thread

Spagetti 12wt double gassed Egyptian cotton

FabuLux 40wt trilobal polyester

Mirage 30wt random dyed rayon

D-Twist 20wt rayon twist thread
GlaMore 12wt rayon with 1 strand metallic
Spotlite 40wt rayon core metallic
and 2 spools of DecoBob 80wt cottonized polyester in colours shown.
Also includes a guide full of hints and tips. 
by WonderFil.