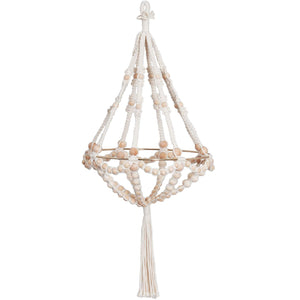 Basic macrame knots and lots of natural wood beads are combined in this beautiful decoration! A sturdy, goldtone metal ring gives stability to this hanging. Beautiful as made from the kit, this piece can also be customized to your liking. Consider painting or dyeing the beads to match your décor! 

This kit includes:
- Lots of 2mm, off-white cord
- Natural wood beads
- 12 inch (31 cm) metal ring
- Clear instructions that walk you through each knot and each step

All you need for tools will be scissors, a measuring stick, tape, and clear glue.

Finished size is approximately 68 cm x 31 cm / 12" x 27".