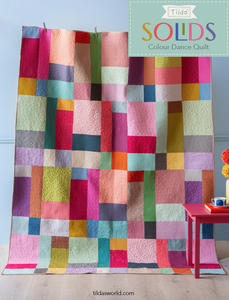 Like a work of modern art, this colourful quilt will always draw attention with its clean lines and graphic look. Nearly all of Tilda's Solid fabrics are represented in this design of simple squares and rectangles, creating an excitingly lively mixture. A pieced backing for the quilt is in a similarly contemporary style and instructions are given for making this if you choose this option (not included in the kit).
Quilt kit includes:
fabrics for top and binding
Finished size is 70.5" x 96.5" (179cm x 245cm).
The free pattern can be found on www.tildasworld.com.