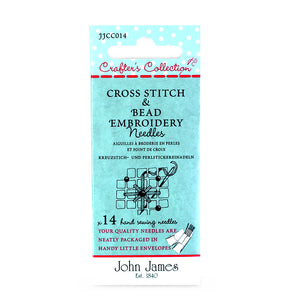 Ever thought of adding beads to your cross stitch? Not sure which needle to use?  This unique pack of cross stitch needles includes a specially designed needle to be used in attaching beads on top of a completed piece of cross stitch.
The needle is an embroidery needle with a blunt round point this ensures no worked stitches or fibres are split whilst sewing on top of the finished work.
Package contains:
5 x Tapestry size 24
4 x Embroidery Round Point size 5
5 x Embroidery Round Point size 7
By John James.