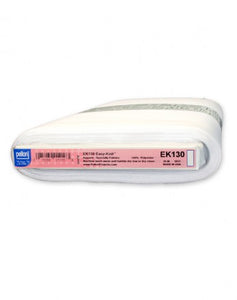 Pellon's EK130 Easy-Knit™ is a fusible knit interfacing and supple stabilizer for dresses, jackets, and pants. It is best used with light to midweight knits, wovens, sweater knits, and machine knitted fabrics and is excellent with fabrics such as wool, flannel, and gabardine. Easy-Knit™ has both a lengthwise grain for body and stability and a crosswise stretch for flexible shaping.
Used as an interfacing, Easy-Knit™ adds shape to collars, necklines, front facings and cuffs while maintaining drapability.
Used as an underlining, Easy-Knit™ prevents show-through on light colors and semi-transparent fabrics. It will also add comfort to scratchy fabrics.
Woven
White
100% Polyester
20″ width
Sewing machine safe
Machine wash warm. Tumble dry low or dry clean.
--------
Please note this product is sold by the 1/2 METRE:
All fabric is cut straight from the bolt in a continuous length.