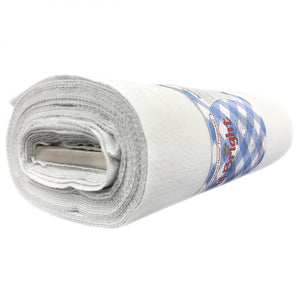 Insul-Bright is a needle-punched, insulated material ideal for crafters. Pot holders, oven mitts and casserole covers are all ideal projects made functional and safe with Insul-Bright. It consists of polyester fibers, needle-punched through a reflective metalized polyester film. The needled material is breathable and won't break down with washing. The polyester fibers resist conduction while the reflective metalized polyester film reflects radiant energy, hot or cold, back to its source.
22.5" wide.
Insul-Bright is heat-resistant, not heat-proof.

Insul-Bright is not recommended for microwave use. 
--------
Please note this product is sold by the 1/2 METRE:
All fabric is cut straight from the bolt in a continuous length.