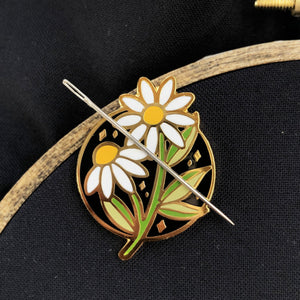 A magnetic needle-minder, to keep you from losing your needle when working on needlecraft or sewing projects.
--
1.5 inches tall

material is hard enamel with a strong, rare earth magnet on the back.
the flower goes on the front of your fabric, and the magnet on the back. The magnet is what keeps the needles in place.
white chamomile daisies, and green leaves. Outline colour is gold.
by Florals and Floss Embroidery.