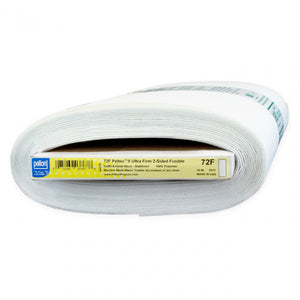 Pellon® 72F Peltex® I Double-Sided Fusible is a double-side fusible which is an ultra-firm, smooth, heavyweight stabilizer for accessories, crafts, home decorating, machine embroidery, and quilting. It is easy-to-sew, even when sandwiched in between other fabrics. Peltex® I will not flatten out or be distorted with steam pressing. It has no grain and can be cut in any direction.
Non-Woven
White
100% Polyester
20″ by-the-yard width
Easy to sew
Heavyweight fusible stabilizer
Machine wash warm. Tumble dry low or dry clean.
Sewing machine safe.
--------

Please note this product is sold by the 1/2 METRE:
All fabric is cut straight from the bolt in a continuous length.