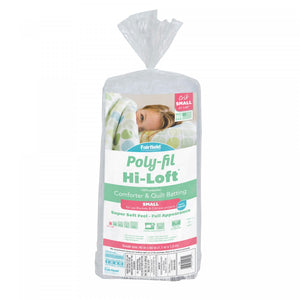 Poly-Fil Hi-Loft 100% bonded polyester quilt batting is appropriate for machine quilting, whole cloth, Hawaiian, duvets, and comforters or making tied quilts. The higher loft creates a fluffy plush look and feel while providing warmth without the weight. It is perfect for projects where you want a lot of definition and texture. It also works great for upholstery, home decor, school projects and holiday decorations. It will not beard, is easy to needle, hypo-allergenic and washable after quilting.
The 45in x 60in Crib Size is perfect for small lap quilts, baby bedding or wall hangings. You can create a quick and easy whole cloth quilt by choosing fabric with a larger print and quilt along the edges of the pattern in the fabric for a deep dimensional plush look in no time.
**EXTRA SHIPPING APPLIES - please contact for a shipping quote.**
by Fairfield.