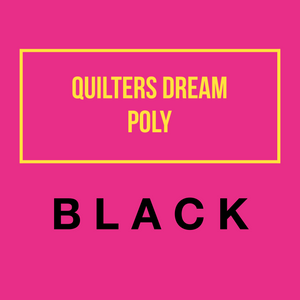 Dream Black is a beautiful true black quilt batting – that enhances the integrity, richness, and warmth of vivid and dark fabrics and… 'quilts like a dream'.
Dream Black Poly is a rich black batting that is wonderful with dark and bright coloured fabrics. It is highly recommended for use with all black fabrics. It also is excellent with red, maroon, brown, green, navy and other deep and vivid fabric colours. If your quilt has a light side and a dark side – Dream Black Poly can be easily layered with one of Quilters Dream's white or natural battings.
Dream Black is specially needlepunched for strength and does not contain scrim or resins. It resists bunching and shifting and is strong enough to stitch up to 10″ apart allowing the quilter wonderful freedom of design. Also excellent for tied quilts. You can gently machine wash and dry your finished quilt.
You are going to love Black Dream Poly batting with your dark and colourful fabrics- it is rich, warm, soft and drapeable and truly quilts like a dream. You won't believe it's polyester
Quilts like a dream!  
93" x 108"
**EXTRA SHIPPING APPLIES - please contact for a shipping quote.**