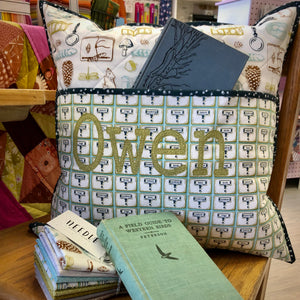 Make a Reading Pillow for your favourite bookworm!  Select four fabrics or let us help you build a kit.  
Kit includes:
choice of fabrics (four required)
zipper
name appliqué with Heat n Bond (different fonts available)
NOT INCLUDED are a 20" square of muslin and approximately 20" x 35" piece of batting.
+ Name appliqué ONLY is also available to purchase separately, but must use a fabric from the shop. +
Please reach out by chat, text, email or phone to have your kit prepared.
Pillow forms can be purchased here.
A tutorial for the Reading Pillow can be found here.