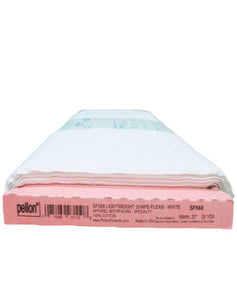 Pellon® SF568 Lightweight Shape-Flex® is a lightweight woven, fusible interfacing and part of our popular regular Shape-Flex® interfacing line.  It provides lightweight, yet crisp support for collars, cuffs, yokes, pockets, facings, and other detail areas of a garment. It can also add body and permanent stability when used as a backing for needlework and punch embroidery. Lightweight Shape-Flex® is intended for light woven and knit fabrics. To pre-shrink, fill a sink with warm water.  Place interfacing in water for about ten minutes.   Do not put in washer or dryer by itself or you may loosen the adhesive.  Gentle squeeze out excess water and allow to dry.
Woven
White
100% Cotton
Bolt, Roll options available
20″ wide
Sewing machine safe
Machine wash finished product according to fabric instructions.
---------
Please note this product is sold by the 1/2 METRE:
All fabric is cut straight from the bolt in a continuous length.