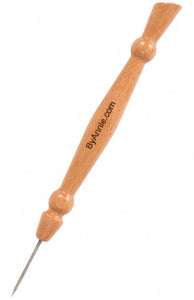 The stiletto point enables you to hold pieces in place easily and is especially helpful when piecing or attaching bindings. 

You can keep the tip of the stiletto in place on the fabric almost until the needle reaches the point. 

The other end of the tool is angled at just the right degree to make a surface for pressing seams open. 

Turnings on the handle make the tool easy to hold and grip.

Flattened edges on each side of the tool prevent it from rolling off your work space. 
Made from high-carbon German-made steel and European beechwood. 
This is a byAnnie product.