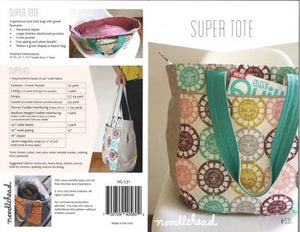 You'll love the Super Tote! It's a generous size tote bag with great features:
recessed zipper
roomy interior pockets
front exterior pocket
cute piping and pleat details
makes a perfect diaper bag or gym bag, great for hauling anything you need
Finished dimensions:  15" wide, 15" tall, 3.5 to 5" deep, 10.5" handle drop
+ This item is a printed paper copy. +
Designed by Anna Graham / Noodlehead.