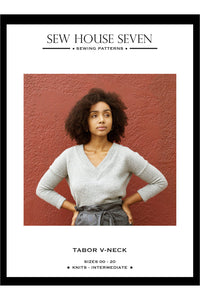 The Tabor V-neck is a versatile top that can be dressed up or down. It features a loose fit, drop shoulders and various necklines and body lengths. The oversized body width is most compatible with lightweight, fluid knits with at least 25% stretch.

Intermediate level pattern
This pattern includes standard size 00 - 20 
 Designed by Sew House Seven.
*This is a printed paper pattern.*