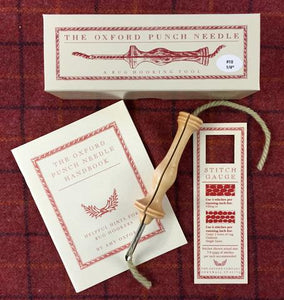 Oxford Punch Needle Features:
Made in the USA
Ergonomically Designed for Comfort and Speed
Maple Handle
Electro Polished Stainless Steel Needle
Lifetime Money Back guarantee
For Use with Yarn, Cut Strips of Wool and Other Fabrics
Designed by Punch Needle Expert Amy Oxford
Oxford Punch Needles are available with a decorative collector's box, stitch gauge, and helpful handbook. This 28-page booklet includes illustrations and complete directions telling you everything you need to know to get started. Materials needed, frames, how to stretch your rug on the frame, how to punch, how to hem your rug, rug care, and other key topics are all discussed. 
"The Mini" forms beautiful short, compact loops that look similar to needlepoint. It makes beautiful rugs and is also great for small items such as coasters, holiday ornaments, glasses cases, etc. Like all of our needles with fine points, it works well with worsted, sport, sock, and baby weight yarns. Try tapestry or needlepoint yarns in it as well or #3 cut strips of fabric.