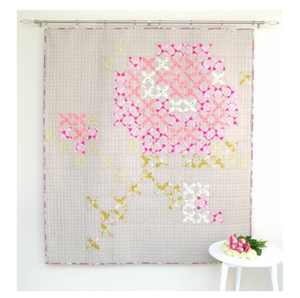 Viv's Rose is a Modern Appliqué meets Vintage Cross-Stitch inspired Quilt design. 
This pattern includes sizes for the Lap Quilt, a Wall Hanging and 2 Cushions. It is suitable for beginner /intermediate sewers - you will need basic knowledge of rotary cutting, quilting and Appliqué principles. The pattern includes clear, colour instructions to make this quilt. All designs are included so you can mix and match the designs to create something special.
This pattern is "Scan N Cut" Friendly and includes pages to upload to your cutting machine to make cutting your Appliqué a breeze (optional).  Templates can also be purchased here.
There are clear set out instructions with Photos,Illustrations and Layout Guides to help you with your machine piecing of this quilt.
Viv's Rose Quilt pattern includes: 
Finished Lap Quilt size - 60.5in x 68.5in (153cm x 173cm)
Wall Hanging - 30.5in x 34.5in (77cm x 88cm)
Cushions - 18.5in x 18.5in (47cm x 47cm)
Designed by Jemima Flendt if Tied with a Ribbon.
+ This is a printed paper pattern. +